Singing or chanting was part of the earliest societies. Of course, the Pagans, from whom much of the Christmas traditions can be traced, sang.   
This tradition of singing songs at Christmas has certainly evolved over time, both in the how and what is sung. 
The word "Carol" derives from the French word carole, a circular procession of dancers and singers, and refers to songs of praise and joy. This early form of caroling happened throughout the year and not just in or around wintertime. And the dancing got left behind! 
In the middle ages there was a practice of "wassailing."  This is an Old Norse phrase "ves heill"  = "be healthy." Wassail is also a traditional hot mulled spiced drink.  Modern recipes begin with wine, fruit juice or mulled ale, sometimes with brandy or sherry. Apples and oranges are often added, and some recipes call for beaten eggs. It is the probable precursor to eggnog.  
Here's an early drinking song 
Wassail! wassail! all over the town, 
Our toast it is white and our ale it is brown; 
Our bowl it is made of the white maple tree; 
With the wassailing bowl, we'll drink unto thee. 
In a small town in England Apple Orchard Wassailing is held on Old Twelfth Night (17 January) as a ritual to ask the Gods for a good apple harvest 
The early peasants, who lived pretty hard lives, had a tradition of singing carols outside the lords' house, and receiving hot cups of wassail and food in exchange.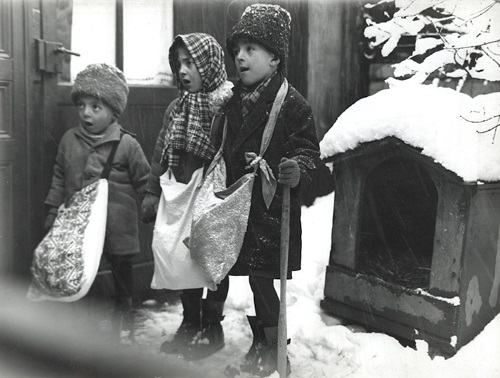 So caroling wasn't initially about singing Christian songs in church.  
 
Much of the history of Christianity is not being merry. 
Saint Francis of Assisi (13th century) broke with the somber tradition and remade Christmas into a celebration, organizing nativity scenes and parades. He allowed people to sing songs in their native language.  Some of the drinking song changed lyrics to be about Christmas. 
The Puritans came along and stopped this merriment.  Christmas was all out cancelled from 1649 to 1660. 
It gradually came back and singing was a big part of this.  
The oral traditions were written down. There is an account of the book Piae Cantiones, first printed in 1582 in Sweden, and contains the earliest written version of "Good King Wenceslas". But it was in the early 1800s that most Christmas songs were written. 
It was the case that the going house to house singing Christmas songs or just going to church to sing carols was the only way we could hear them.  That is certainly not the case now.  How ever we hear them, and if we sing along, the innate need to sing, and hear the familiar songs, is there. 
But do we know what we are really singing about?
 
Spoiler alert.  Here are some facts that may jar that joy. 
Ding Dong Merrily On High- 16th-century dancing manual 
O Little Town of Bethlehem - was originally a folk song about a dead ox
Joy to the World - is about the Second Coming 
Jingle Bells  - is about soused singers taking a cue to jingle the ice in their glasses, "Go at it while you're young / Take the girls tonight, and sing this sleighing song." 
Baby, It's Cold Outside – is it about predatory behavior?
O, Holy Night – written by a Jewish wine inspector 
Silent Night  - got reworded by the Nazis to "Silent night, Holy night, / All is calm, all is bright. / Only the Chancellor stays on guard, / Germany's future to watch and to ward, / Guiding our nation aright."  Silent Night: The Story of the World War I Christmas Truce is true. Walter Kirchhoff, was a German officer who had been an opera singer.  He sang "Silent Night" twice, once in German and once in English, and the war stopped as everyone listened. 
O Tannenbaum – not written to reference a Christmas tree. Tannenbaum is German for just a fir tree. And its author was lamenting that women would not be as steadfast as a fir tree, and remain true throughout the year. 
Do You Hear What I Hear – was written out of fear of the missile crisis. "The star with a tail as big as a kite", isn't the Star of Bethlehem, but a nuke. 
White Christmas, - written Irving Berlin, isn't really about Christmas, either. Berlin, who was Jewish, didn't celebrate Christmas. His son passed away on Christmas Day in 1928, and the song was Berlin working through his eternal grief over the event a decade after his 3-year-old son's death on Christmas Day 1928. Berlin and his wife spent every Christmas thereafter visiting their son's grave. 
 
Christmas songs have continued to be written.  Which ones will stand the test of time? 
 
This year for sure we won't be caroling but I do believe that we will again.  
 
Here is CHOIR CHOIR CHOIR  at the Eaton Centre a few years back.  Don't you wish you could safely gather like this!