Thinking of throwing a party on the long weekend this summer?  Maybe you'd like to dress up the deck or patio for this event. Had you thought to do that without growing plants?
During the last Convention of the Ontario Horticultural Association, six bus tours and 13 garden tours were provided to all the Horticultural Society members who attended. All of these tours were done virtually by professional photographers and videographers. Of interest, were a few gardens that had included non-living flowers and floral arrangements in their gardens and patios. If they had not been pointed out, you would not have known they were not live plants.  One item, in particular, was eye-catching. The owner had not only made paper flowers and greenery for her daughter's wedding bouquet but then she coated the arrangements and mounted them on a partition specifically built and placed in her garden for such memories. It made a gorgeous wall that looked like it was vertically planted and it added good memories to her beloved garden.
It brought to mind that one of our members, Judy, decided to do this for her backyard garden and patio. And not only does it allow you to personalize your area, and add memories, but for many of us, it decreases the amount of garden care and weeding required which is helpful given that work can get harder to do as we age or due to illness or surgery. 
Perhaps this is something you'd want to start now for the upcoming outdoor seasons!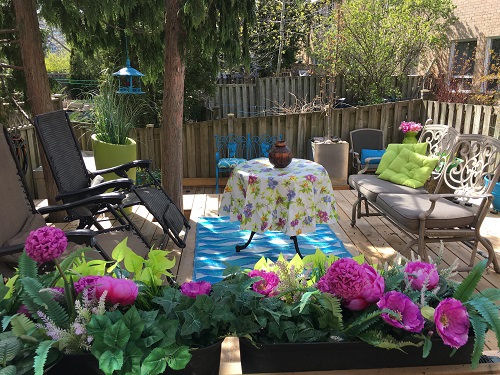 Judy's project included planting, painting old planters and furniture, and decorating the backyard deck that had been resurfaced the summer before. The result – a maintenance-free area.  She kept a few live trees, roses, herbs, and planters, and hanging baskets that were of sentimental value. Balance is everything!  The goal: No weeding, no deadheading and no watering. Just take them inside in the Fall and bring them outside again in the next Spring.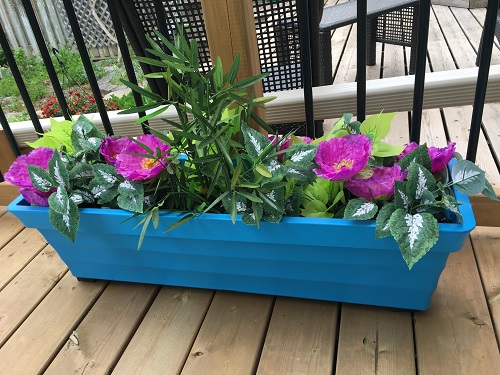 She chose a nice bright colour palette - turquoise, lime green and pink. She spray-painted most of her old planters and furniture in turquoise and lime green, giving them new life.   A number of the pots already had old, nutrition-lacking dirt in them, perfect for the conversion. Some of the ones that didn't have dirt got partially filled by placing an old plastic hanging pot in each tipped upside down (with thanks to gardening friends for their donations) and for some pots, she used floral foam to help fill them. She then topped them up with garden soil for the weight and natural look.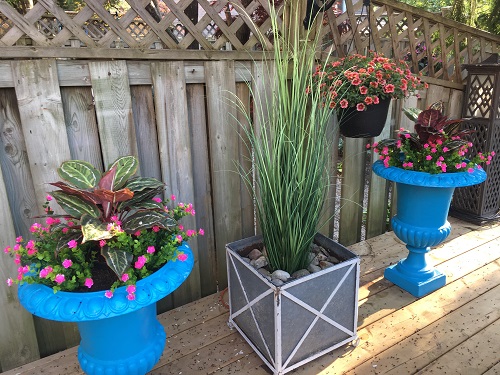 It took a lot of preparation work but she is quite pleased with it all. And that work is only done once typically although there may be a desire to change colours of the planters and pots every few years! She enjoyed sitting outside having a cup of tea in quiet solitude or a glass of wine in the early evening last year catching up with her daughter.  The latest addition was a birdbath given to her as a birthday present.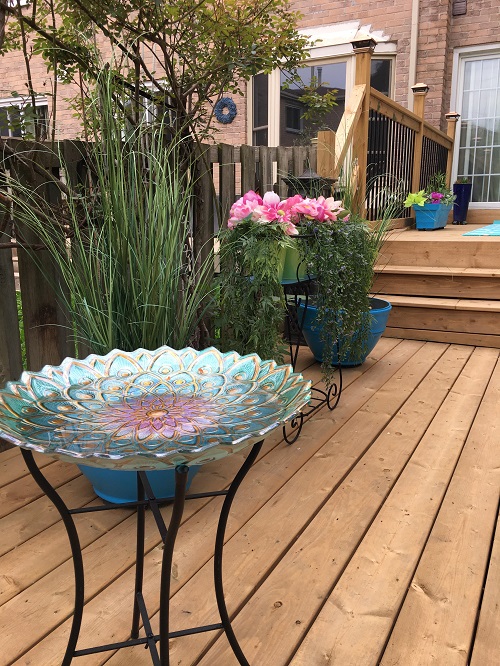 In her own words, Judy says: "My backyard deck garden has blossomed into a very uplifting, calming and happy oasis where my daughter and I can spend a lot of relaxing time isolating during the pandemic. I can't wait to be able to share it with family and friends!"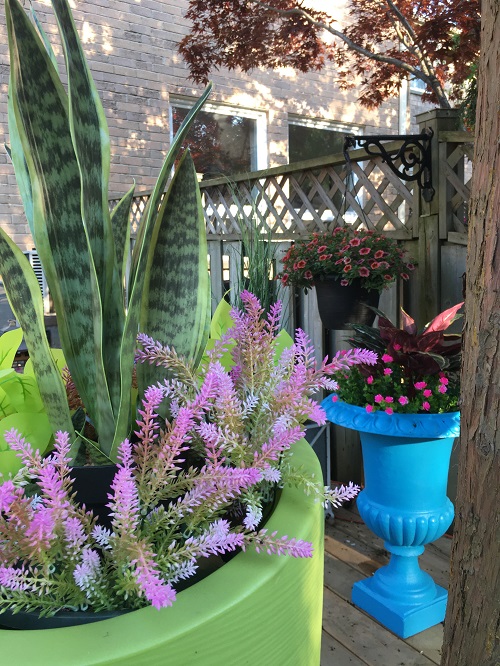 Judy has brought all her pots and hangers out of storage and has placed them on her deck again for another season of relaxing usage.