I picked my first zucchini today (early September), albeit small, simply to give the smaller ones a better chance to grow. It measured only 30 1/2 inches long.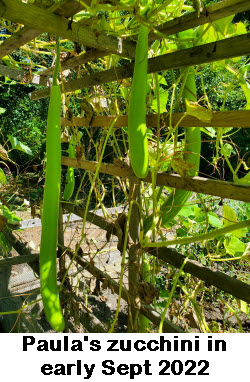 They had a late start this year because they were not getting pollinated. Then I remembered my father telling me how to pollinate the Sicilian zucchini by hand, so I did. I remember my father telling me: "You have to get up early in the morning, pick a flower that doesn't have a little zucchina attached and put it on one that has a zucchina attached to the flower." He said, "You have to make them kiss."  I was a teenager when he showed me how to pollinate the zucchini.  I'm so happy I remembered.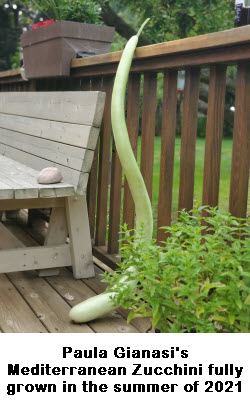 Last year, my zucchini were each about four feet in length. These are also called Mediterranean Zucchini but mine were originally from Sicily and thus we call them Sicilian Zucchini.
Editor Doreen's note: I have zucchini envy and can only dream about all the wonderful zucchini dishes one could make with just one of those zucchini! These were grown right here in Richmond Hill in Paula's backyard. Growing vegetables makes a beautiful garden in many ways including feeding your family! I also like that this reinforces the need to sometimes help nature when we see such things as pollination not occurring naturally.
Article and photos submitted by Paula Gianasi, a member of the Richmond Hill Garden & Horticultural Society.
BTW: Zucchina is the singular of Zucchini but also an alternate spelling in other languages.