I like a bit of Holiday greenery in my home at Christmas but it can be expensive to buy a live wreath, boughs of evergreen for the fireplace, and a few centrepieces plus some poinsettias.  Last year I went out and got two nice pieces putting one in the main hall and one in the living room. We got 1 small poinsettia and placed it on the kitchen table.  They all looked very nice and festive. At the end of the season, I thought I'd save all of the "ornaments" that were in the centrepieces and try to make my own this year.  I also saved the containers they came in and the floral foam that you push the evergreen twigs and flowers into. 
Want to make your own?  Whatever yours looks like, it will be great!  Here is a list of what you need and how to make a simple centrepiece.  
First, gather some supplies. Below is a list of what you need and where you might get them.
1. Live material such as a piece of holly or ivy, small branches of evergreen, one or two small branches from a boxwood or Euonymus shrub. Live evergreen is required.  Perhaps you have an evergreen shrub or tree from which you can clip several small branches – each about 4 to 8 inches long. Plus one that ends with a crown of little branches to act as the top of your arrangement or perhaps you can find a pinecone to use. If you don't have these on your property, then you can always go to a big box store, a nursery, or a local tree lot to see if they have pieces you can buy. 
2. Decorations: A small group of fake red or white berries attached to a piece of wire, a small cardinal on a stick that you push into the floral foam, floral foam, a little birdhouse, a bell, etc. To find these, try the dollar stores, Walmart, Michaels, and even some nurseries.
3. A container for this arrangement. If you want to make a wreath instead, you'll need a wreath ring or form. Both containers and the wreath can be found at Michaels, Walmart, and dollar stores.
Second, start assembling the centrepiece.
1. Put the floral foam into a sink full of water and ensure the foam gets fully wet.
2. Put the floral foam into the base of your container. You may have to trim it with a knife to make it fit.
3. Then start adding the evergreen branches.  You want to start at the bottom and work your way up with longer branches at the base so they can be inserted into the foam at a low angle so they come out and bend down towards the tabletop. At the very top, I placed a pinecone but you could use the end of a small evergreen branch with a crown of baby branches.
4. Now it is time to decorate.  I like to choose a "front" side of the piece and then I added my cardinal there just over halfway up.  Then, I added white berry twigs to add some colour to the whole piece.  I also put in some red berry twigs for contrast. With those in place, I found it easier to add some of the boxwood vine.  
5. Done.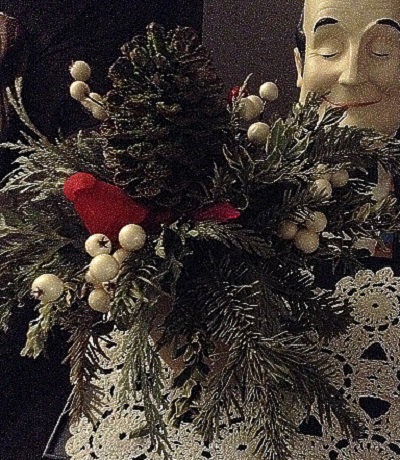 Things I'd do different – 
- I cut some of the evergreens too early and the piece is starting to brown.  Of course, I also forgot to water it – so bad on me.  Thus, cut later in November and be sure to keep the floral foam wet.
- Put more red berry branches at the front of my piece.  Most of them ended up on the back with lots of white ones in the front.  The good news: it is easy to make that change anytime you want!
But if after all is said and done, you prefer to buy finished pieces – I've gotten nice pieces from Kate's Garden in Markham. But check out your local florists, and nurseries as well. Even Lowe's, Costco's and Home Depot are selling these!  Sue's Produce has some small ones for indoor use and other larger outdoor pieces.
Most important: take time to relax and enjoy the season.