Our group's November meeting featured a presentation by a talk by Mark and Ben Cullen on attracting birds to the garden. At the end of the presentation, we learned that Mark and Mary Cullen were helping with a campaign to save an ancient Oak tree in Toronto. According to the Sudbury Star newspaper, they personally contributed a significant donation as well as the promotion of this cause. 
This Oak tree in Toronto is an extraordinary tree, which sprouted from an acorn in the 1700s. Now 24 metres tall and stretching equally widely in all directions, it has a girth of 5 meters.  A bungalow built in the 1960s beside it is now dominated by the tree which has overwhelmed the home and damaged the foundations with its roots. It's located in Humbermede, a community within the northwest section of Toronto.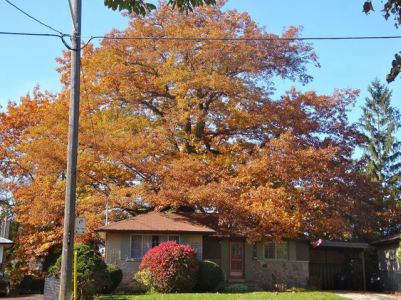 Neighbour and advocate Edith George has been working with a group of volunteers to have the 350-year-old red oak designated a heritage tree since 1998. In an article by Mark Cullen, he asks us to "Imagine what the real estate around Etobicoke looked like in 1667 when this tree was born.  There was a trail that ran alongside the tree that led to Lake Simcoe.  The tree bears witness to a lot of our history."
Edith has spent 14 years trying to protect the tree as the owners of the house wished to remove the tree to redevelop the site. The task was enormous; the City of Toronto agreed to preserve the tree and create a park if $430,000 could be raised privately by November 26th, 2020. Despite generous donations from across Canada, just days before the deadline, the fund was $100,000 short! Philanthropist Ed Clark donated a further $50,000. Still short!
Edith George and many anxious neighbours, tree lovers, and contributors watched the council meeting online with their hearts in their mouths. George, a retiree, was preparing to mortgage her home if the council rejected the motion to preserve the tree and create a park. 
2020 has been a terrible year. The fate of this fabulous tree was not destined to be yet another bad news story. Toronto Council voted 17-5 to cover the shortfall, proceed with purchasing the site, demolishing the bungalow, and creating a parkette. Any new donations will be put to the completion of the project!
The tree was saved! There are simply some things money alone cannot buy. 
To read more about this tree: