This theatre is the gem of the Town!
The Main Auditorium boasts a 631 seat capacity,  the largest of any theatre in York Region.  The design has meant that all seats are good seats with none being more than 70 feet from the stage. State-of-the-art acoustics has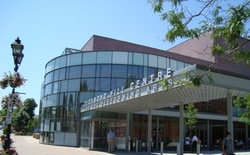 created an ideal venue for large scale musical events, small scale opera, choral music, symphonic performances, children's programming and intimate solo performers . There is a Full Orchestra Pit and a beautiful grand piano.  It also boasts of having a 120ft Fly Tower equipped with 34 fly-lines, the only one in York Region. 


There is also a 150 seat Rehearsal Hall with a flexible configuration for interactive presentations, dinner theatre, award ceremonies and corporate events

The Lobby Galleries displays an array of visual arts

An Outdoor Piazza, complete with a water fountain and a liquor licence has made it a desirable place on summer evenings.

A Restored Heritage Building, is connected to the theatre and currently is waiting occupants.