I have three areas around my house that just don't get a lot of sun. Closest to the house, the plants in this area only get the sun from dawn to about 11 am. Most of the day they are in the shade caused by the shadow of the house. I have that marigolds and coleus do well there.  Indeed, the marigolds seem to do well whether they were in partial shade or full shade. I've learned that coleus with darker-coloured leaves will grow even with long periods of shade. I do love both plants but they are not perennials and do not grow by magic each year. 
But other HORT members are helping me understand that these plants are relatively easy to grow every year using the same plants you planted outdoors in the summer. i.e. No need to pay more at the nursery. 
Marigolds: The marigold flowers form seed heads which are easily harvested by pulling the seeds from the head.  After harvesting, you simply dry the seeds. I place mine on a napkin for a week indoors in an area without much light and then place them in a marked envelope that states their colour, name, and year harvested.  In the spring, I cast them into the soil once there is no frost nor forecast of fewer than 10 degrees Celsius at night.  You could also plant each seed, or group of seeds, separately.
Coleus: Greta is one of our members that does an excellent job with propagating plants including coleus and succulents! Here's how she propagates coleus.  Coleus is one of those summer plants that have so much variety in leaves that it doesn't matter that their flowers are small. They give a burst of colour all summer. When you would like to have more plants, cut off a long straggly branch. Snip off all the leaves except for the top 4. This green branch is put in water until it starts growing roots. At that point, it is time to give your new plant some fresh potting soil. Make sure you keep it nice and moist but do not overwater. And voila, you have a new coleus plant. That plant can remain indoors for the winter and then be taken outside in the spring.
The photos below were taken by Greta with the first one showing a cutting in a glass of water; the next shows it with roots now in a pot of soil, and the last one shows the grown plant.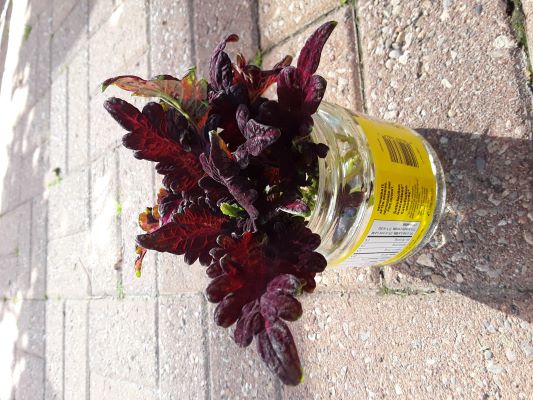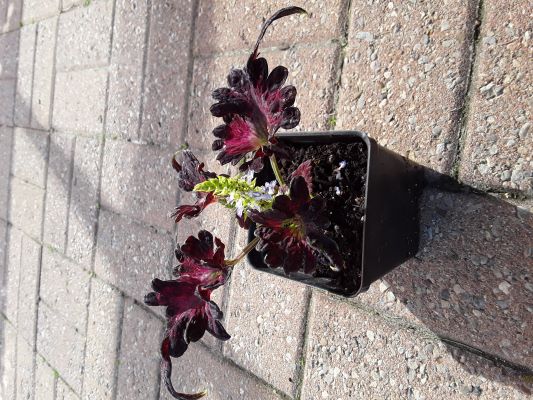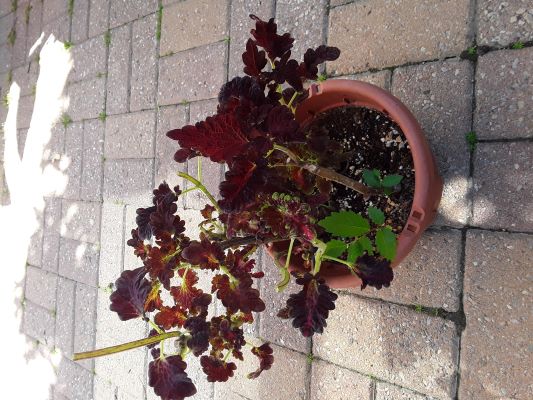 If you are the kind of person who may forget to think about propagating plants in the fall, then at any time in the summer, get a cutting as described above and create new plants then. Coleus does very well as delightfully coloured potted indoor plants. Those can then be your source of snippings for future propagating purposes.
One last tip: To make your current plant look bushier, trim it back to the first set of leaves a few weeks after planting. As it grows, there will be more branches and thus more leaves than before.