You may recall that back in the spring I was looking for some plants that I could use in shaded areas of my yard.  I had found some interesting ones over the years and a few extra from my research last winter and trials this spring and summer.  
Recently, I received a book that talked about ornamental grasses. And many of them do well in the shade.  Of course, it also talked about ones that loved full or partial sun.  But my interest is in finding plants that do well in the shaded areas of my gardens; and, these shade-loving ornamental grasses could be the boost to my gardens that I've been looking for. 
It seems that no matter which of these ornamental grasses I choose, they could fill an otherwise dull shady part of my garden with something stunning, simple, and easy to maintain. What's more, I don't have to settle on just one. If several of these are appealing, I can mix and match so that I can enjoy a multitude of colour and texture. I've seen photos where people have planted a variety in a large cluster or pattern along side other clusters of other varieties of grasses for a rather remarkable display!
Below are my Ornamental Grass findings! From all I've read, I've decided to try out the Black Mondo Grass, Hakonechloa macra, and Sedge in my fully shaded areas. They meet my fully shade requirement and they are all of different heights and colours so they should make an attractive display.
Black Mondo Grass (Ophiopogon planiscapus 'Nigrescens') FULL SHADE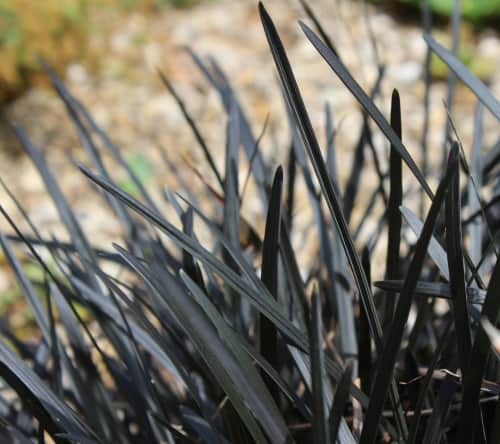 This ornamental grass really stands out given its rich black coloured leaves. In summer it has light pink flowers that seem to crawl up the stems. This is ideal for ground cover, filling a shady area with pink flowers that seem to pop out of nowhere. At maturity, it will span about 12 inches (30cm) in both height and width.
Hakonechloa macra (Japanese forest grass) FULL SHADE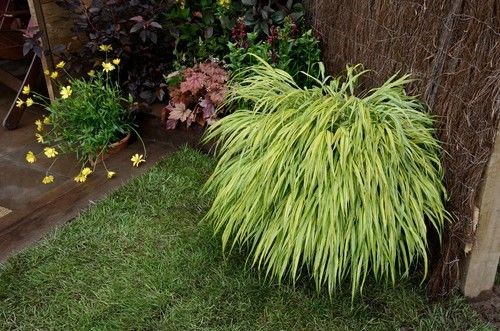 This adaptable ornamental grass loves shady areas. It produces loose, cascading foliage that arches and moves in the wind. The colours range from solid green to variegated, to bright gold. The plant grows between 8"to 20" (20-50cm) in both spread and height. It is easy to grow, requiring little in maintenance, and like all ornamental grasses has the resiliency to pests and diseases.  Grows well in exposed or sheltered areas and will thrive in most moist but well-drained soils.
Hakonechloa macra Aureola  PARTIAL or FULL SHADE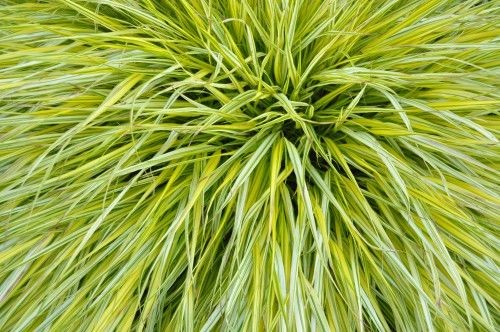 This golden variety is perfect for shade as they are bright and stand out even in the shade which is what one looks for in a grass to plant in a shady area of the garden.  This grass needs to grow in well-drained soil, with partial shade or full shade. It has a handsome greenish yellow foliage which becomes tinged with reddish in autumn before produces seed heads. . It should be planted in fertile well-drained soil in a sheltered or exposed position. It is a smaller type of grass only growing to 8" to 12" (20-30cm).
Snow Rush (Luzula nivea) PARTIAL or FULL SHADE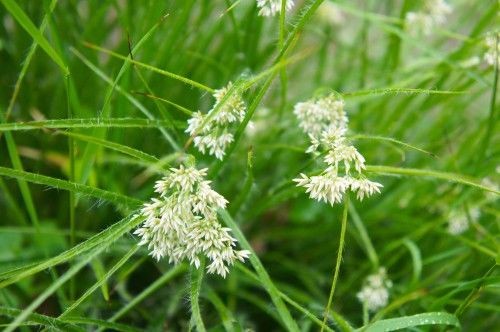 This grass, like many others, is resistant to pests and diseases and is very hardy. It is known for its snow-white blooms that grow on top of slender, rich green stems. The evergreen is clump-forming with medium blade widths. Small, it will reach between 12" to 16" (30-40cm) at its full maturity but the flower stems can reach some 36" (60cm) tall. It can be grown in sheltered or exposed sites and grows well in partial or full shade. It will grow in nearly all soils types from poor to fertile as long as its well-drained.
Sedge (Carex Ice Dance). PARTIAL or FULL SHADE
Sedge blooms between April and July with insignificant flowers so the foliage is what everybody is talking about. Like all ornamental grasses, it is best known for its colourful leaves. This grass grows best in partial shade or full shade and requires moist but well-drained soil. The thin blades of grass grow in rich, verdant shades and span upwards of 4 to 20" (10-50cm) with a spread of around the same. This grass grows well in very shady areas.
Next week we'll look at Ornamental Grasses that require only partial shade.