It's always nice to make a seasonal change for your gardens and front porch. Planters are a great choice.  Be sure to use a planter made from a modern substance such as fibreglass, fiberstone, or a non-porous plastic composite. These can remain safely outside over winter.  Note that terracotta or clay pots cannot be stored, nor left outdoors, for the winter.  Since they are porous and retain some moisture, they are prone to cracking because the moisture in them will freeze and expand throughout the winter  
Many of us will simply add planters with chrysanthemums of various colours. These will look great; but, there are other choices to consider. Here are some ideas on how to make planters that will brighten those cooling fall days.
Fill planters with an assortment of faux pumpkins, gourds and dried fall foliage that will stay gorgeous all season long. For an extra cozy touch, nestle beautiful lanterns and faux-flame candles into the greenery, then arrange small mums and cabbage plants around the base.
For a different look, you can combine different plant textures in your planter. Flowers won't last long so make your planters look great for the entire season by choosing fall container plants with foliage that looks lovely in autumn. Grasses, kale, Heuchera, and Heucherella are colourful, textural, and can take a little frost. These will make dependable anchors for fall pots. FYI: Heuchera is an evergreen perennial plant in the family Saxifragaceae, all native to North America.  Common names include alumroot and coral bells. Heucherella is also an evergreen perennial flowering plant in the family Saxifragaceae. It is a cross between two distinct genera, Heuchera and Tiarella.
For fall containers, you could also try some of these cold-hardy perennials: Sedum, Grasses, Smokebush, Lamb's ear, Ivy, Creeping Jenny, or Hens and Chicks.
Of course, as the Holiday season gets closer you might consider starting a taller planter with birch bark limbs. Then add evergreen branches of various kinds to give different shades of green.  You could add a few ornamental grasses or simply a few long twigs from various plants – maybe a few pussy willow branches which you can usually find in a small grove or trees.  Of course, I'd be prone to add a red bow and a realistic-looking cardinal ornament.
Have fun with this project; you'll enjoy the results.  And if you don't love what you make, then change, remove, or replace something in it. You can change it up as often as you wish!
I've added photos of some of these container plants that you may not know a lot about: Heuchera, Heucherella, Blue Sedum, Pussy Willows.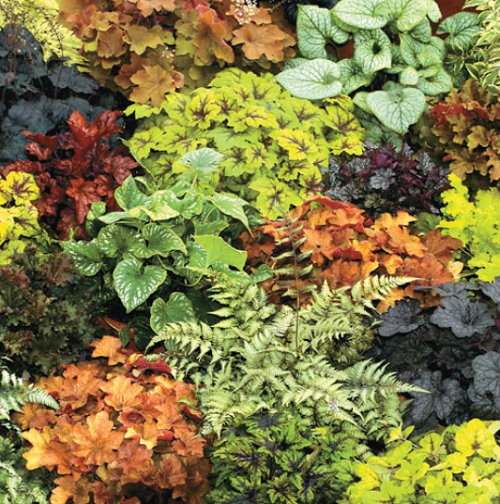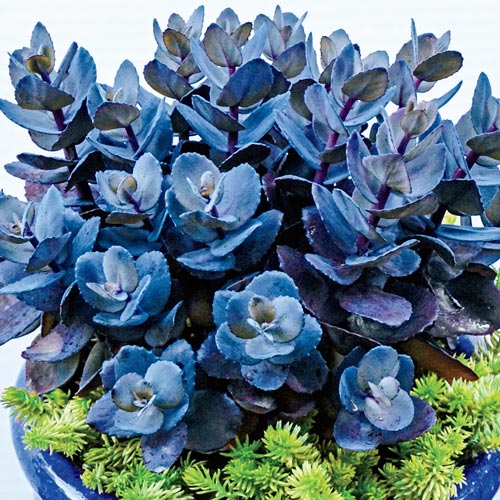 Blue Sedum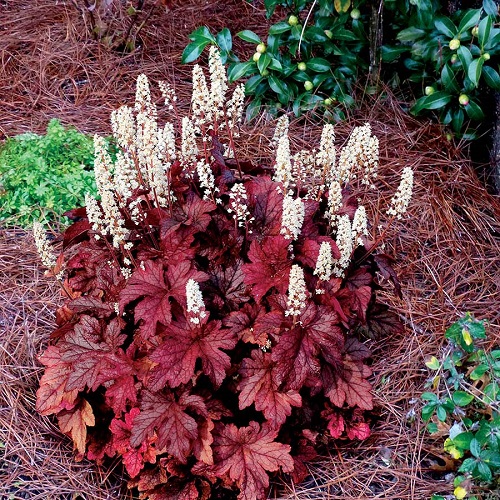 Heuchera - Peach Tree