Given the temperature is dropping, why not start a garden indoors!
You don't have to be an expert if you follow the advice in this article, you can have some nice plants growing in your home in no time!
And the act of planting and maintaining your gardening does have benefits! It relieves stress, improves your mental health, reduces risk of depression, and can help lower blood pressure.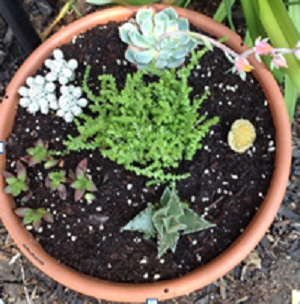 Tips For Beginners
Start Small. Even 3 to 5 plants will be a welcome addition.
Pick a place in your home with indirect light and windows.
Decide whether you like to grow flowers, succulents (such as cactus) or perhaps herbs. Or maybe a combination such as two potted flowering plants and a smaller planter of succulents.
Get some pots and potting soil. If on a budget, try a local Dollar Store. Or take a trip to a nursery or a box store such as Canadian Tire, Home Depot, or Lowes.
Do not crowd plants in each pot or container.
And once planted, remember to water them every 2 weeks.  You can put your finger into the soil to check if it is dry within the container. If dry before 2 weeks, then water that plant more frequently.
Have some fun picking out your plants!
If you are growing herbs, I'd suggest 1 smaller pot (about 5") per herb. Chives, Parsley, Thyme, and Basil make good choices that can be used in many of your meals.
If you decide to grow flowers, I'd check the nurseries for available plants before choosing your pots to ensure you get pots of the right sizes. And make sure the bottom has drainage holes and that you get a bottom "plate" that will ensure that water doesn't come out and ruin your furniture!
You can take your potted plants outdoors in the summer if you wish!
Do you need some tools to pot your new plants?  If you are on a budget, try some of these creative ideas: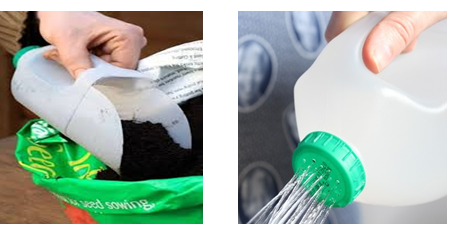 For getting potting soil from its bag to your new pot, cut a plastic jug and use it as a type of hand shovel. Be sure to keep the lid on the jug! Alternatively you can use an unwanted large spoon or a small plastic cup or even your last take-out coffee cup!
For watering, put holes in the lid of a plastic jug. Hammer a nail into the lid in multiple spots to do this.
Gardening, even indoors, can be a great activity for both you and your children as you spend time with them making the garden and watering the plants. And as you tend your garden, your whole family will learn more about plants.
Start now and you'll appreciate the greenery and blooms for years!